About Vinita's Beauty & Threading Studio
Vinita's Beauty & Threading Studio established itself as one of the most reputed chain of beauty salons in Southern California. It is a culmination of hard-work and dedication of Vinita Vineet who had the vision to offer the magical benefits of ancient Indian art forms like Threading and Henna Tattoos to the modern world. Vinita's Beauty & Threading Studio is the only salon that offers a unique blend of Indian-Ethnic looks and Euro-American styles providing you with the most exquisite and exotic ambience with traditional warmth. The amicable and professional atmosphere in all our locations resonates our commitment to Bringing Out the Beauty in YOU!!
Vinita's first salon was established in 2002 in the city of Cerritos. The world-class service provided to our esteemed customers at unbeatable prices set the foundation for opening 8 locations throughout southern California. Since the inception, this family business paved the way to generate employment opportunities to over 200 beauty and threading professionals in Los Angeles & Orange counties.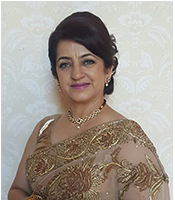 Vinita Vineet, Cosmetologist
CEO and Owner
Awarded "Woman of the Year" 2016 (Entrepreneur) by California Senator Tony Mendoza.
Vinita Vineet is a cosmetologist from India and Los Angeles with over 30 years' experience in hair and beauty industry. As a self-made entrepreneur, she set the bar in terms of exceptional service and was a cornerstone for individuals aspiring to start businesses throughout Southern California. Her objective has been to create an environment where the beauty services are provided at reasonable prices without compromising on the quality of craftsmanship.
As an active member and past president of a non-profit organization, Vinita constantly engaged herself in donating to blind school and suppressed women needing shelter. Her on-going commitment has created a domino effect in the minds of the women several of whom have come forward to replicate her efforts.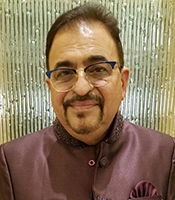 Vinod Vineet
President and Owner
Mr. Vineet is the co-founder of Vinita's chain. His business acumen has made him a vital resource for the success of Vinita's Beauty & Threading Studio. A medical doctor by qualification who practiced medicine for over 20 years has a vast array of theoretical knowledge with ability to perform tasks with perfection and attention to details.
Realizing the opportunities in areas of social work, Mr. Vineet, along with wife Vinita, joined as a founding member of UFICA, a non-profit organization which provided them a platform to help in the areas of social cause.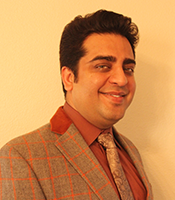 Vibhor Vineet, M. Engg., MBA
Vice President, Sales & Marketing
Vibhor joins the company with 7 years' experience working with corporates in countries like Canada and India. He holds double masters degrees (Masters in Engineering and MBA) which laid the foundation for his analytical skill and decision making. He is responsible for designing the core strategies for marketing and advertising efforts of the company. Being Six Sigma certified, he implements and monitors the Quality aspect of the business which is an integral part of our business ideology. Vibhor is also instrumental in business expansion, online presence and sales & distribution of our exceptionally popular product Vinita's Herbal Henna.